GET FISHING NEWS
 11 July 2022
HUNDREDS OF FREE HAVE-A-GO EVENTS FOR FAMILIES AND NEWCOMERS THIS SUMMER DURING THE SCHOOL HOLIDAY. ALL AGES AND ABILITIES ARE WELCOME TO GIVE FISHING A GO AT FUN, SAFE AND FRIENDLY EVENTS RUNNING THE WHOLE OF AUGUST 2022.
Get Out and Fish – Monday 1st August to Wednesday 31st August
This year's National Fishing Month will be the biggest and best ever with the Environment Agency, Angling Trust, Canal & River Trust and Angling Trades Association, joining forces to make fishing part of every family's to-do list this summer!
Put the date in the diary right now and get ready to join in as we celebrate all the fantastic things that angling has to offer with a whole month of fishing fun this summer holiday between Monday 1st and Wednesday 31st August 2022.
If you've never been fishing before, or always wanted to give it a go, this August's National Fishing Month is the time to discover why fishing is one of the most popular activities around – find out how fishing is a great way to spend time outdoors, is low-cost or no-cost, is a huge hit with kids and is available right on your doorstep.
With hundreds of events all over the country, National Fishing Month means everyone can have the chance to try fishing, plus with Take a Friend Fishing happening too all month, existing anglers can get a free fishing licence and take along a newcomer for a day!
All you need to do is go to www.nationalfishingmonth.com put in your email and you'll instantly get a free activity pack full of useful hints and tips to help get you and the family fishing this summer. Be the first to get National Fishing Month weekly news with have-a-go fishing events near you, special offers and a free prize-draw with hundreds of pounds worth of vouchers to spend on fishing tackle or outdoor gear!
Join in with a summer full of fishing fun – National Fishing Month means you can get outdoors and finally find out what goes on around and under the water near you – plus, you or the kids might even catch a whopper!
Get involved in National Fishing Month right now at www.nationalfishingmonth.com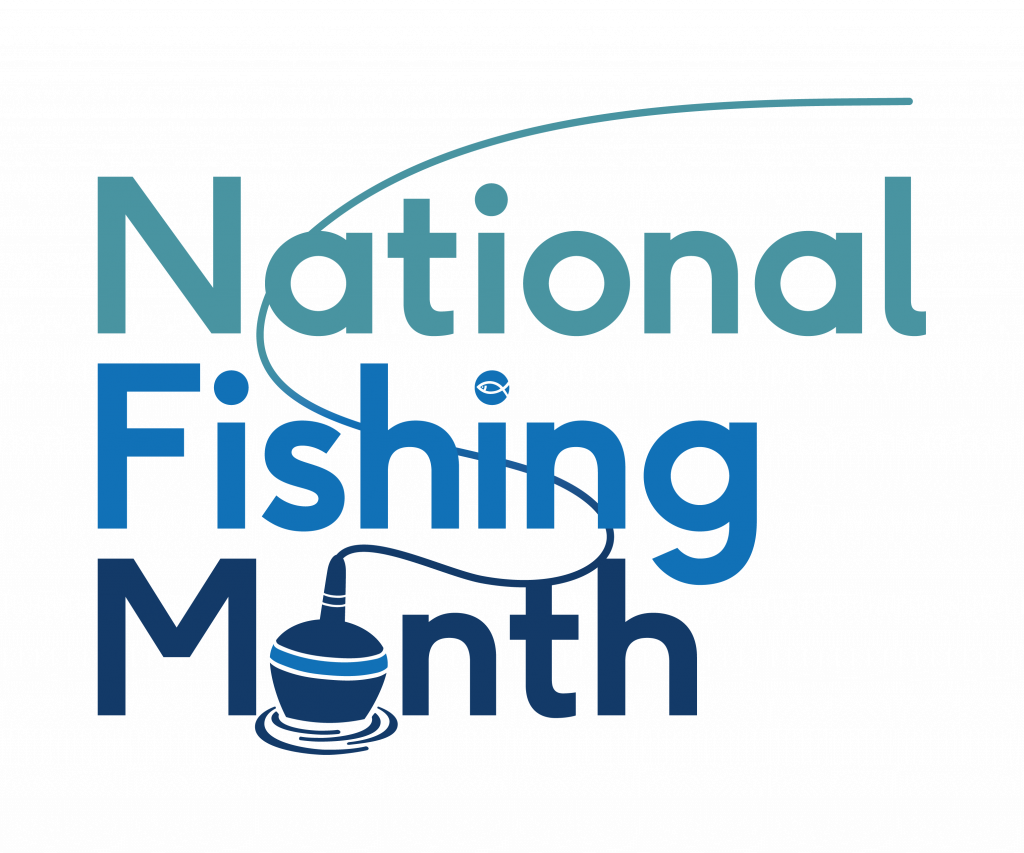 ---
EDITORS – HERE'S WHAT YOU NEED TO KNOW ABOUT NATIONAL FISHING MONTH 2022:
National Fishing Month is an Angling Trades Association initiative run in partnership with the Angling Trust, Canal & River Trust and Environment Agency, and each year introduces thousands of families to the health and wellbeing benefits of spending time outdoors next to nature. The Angling Trust is endorsed and funded by Sport England, and National Fishing Month is part of its wider Uniting the Movement strategy to transform lives and communities through sport and physical activity. More info at: www.nationalfishingmonth.com.
GET YOUR FREE NATIONAL FISHING MONTH PROMOTIONAL TOOLKIT:
For exclusive digital social media assets, animations and posters go to our Dropbox at https://paper.dropbox.com/doc/National-Fishing-Month-Campaign-Assets-uNJOl4HV4POFC9b2oNtE5
ANY QUESTIONS?
Please contact James Roche by email at james.roche@anglingtrust.net. James is an Angling Development Manager for the Angling Trust and can help you, your club, fishery or organisation to get involved with National Fishing Month this August. You can visit www.nationalfishingmonth.com for more info too!
QUOTES:
Angling Trust:
Clive Copeland, Head of Participation at the Angling Trust said "If you are looking for fun, safe and friendly family activities during the summer holidays then this August will be the month to get outdoors and learn to fish with information from www.nationalfishingmonth.com on what's happening near to you."
Angling Trades Association:
Andrew Race, Chairman of the Angling Trades Association added "These are exciting times for the industry. With all major stakeholders continuing to work in partnership, National Fishing Month continues to grow across all sectors and develop into the ultimate celebration of all that angling has to offer to all communities across the UK."
Environment Agency:
Heidi Stone, Fisheries Partnerships Manager at the Environment Agency added "The Environment Agency is delighted to be supporting National Fishing Month to celebrate the wide-ranging benefits of this enjoyable and accessible sport and to help people try out fishing for the first time. We encourage everyone to get involved in the many events planned and, for some, we hope it will be the first step in their journey to becoming a life-long angler".
ABOUT FISHING:
Going fishing is one of the nation's most popular pastimes because people who go fishing fall in love with the way it combines being in nature, healthy activity and proven mental health benefits – it relaxes you, gives you a reason to get off your screen and a chance to forget about the challenges that the pandemic and rising cost of living have brought.
Fishing is a low-cost activity that only needs a small amount of money and time to do. It's easy to get into with a few bits of fishing tackle and a fishing licence from www.gov.uk/fishing-licences
8 million people live within 5 minutes' walk of somewhere to go fishing.
11% of England's population live just a 10 minute walk or 2 minute cycle of somewhere to go fishing.
A recent OnePoll survey for the Angling Trust revealed that a quarter of people (26%) have enjoyed spending more time outdoors since the pandemic because it gives them 'a sense of freedom' and allows them to entertain the kids (17%). Of those keen to give fishing a try, (33%) say it provides an opportunity to spend quality time with family and friends.
The pandemic has seen a boom in fishing, with the Environment Agency last year reporting 16% more fishing licences sold.
Fishing licence sales pay for the environment to be protected – over 1,700km of rivers were improved by the Environment Agency and its partners in 2019/20. Get a fishing licence at www.gov.uk/fishing-licences
ABOUT ANGLING TRADES ASSOCIATION
The Angling Trades Association's aim is to promote, represent and protect the trade across all three angling disciplines – sea, game, and coarse fishing. In so doing, it strives to achieve not only long-term stability for the sport but, more importantly, ongoing growth and development. www.anglingtradesassociation.com
ABOUT ENVIRONMENT AGENCY
The Environment Agency funds the Angling Trust to provide more opportunities for people to go fishing and encourage sales of fishing rod licences. Money from fishing licence sales is spent on improving fisheries habitat and angling infrastructure through projects like the Angling Improvement Fund. www.gov.uk/government/organisations/environment-agency
ABOUT ANGLING TRUST AND GET FISHING
Get Fishing is the Angling Trust's campaign to get more people fishing more often. It's funded by the Environment Agency from fishing licence income and Sport England to encourage regular participation and diversity in sport. www.anglingtrust.net/getfishing
ABOUT CANAL & RIVER TRUST
We're the charity who look after and bring to life 2,000 miles of waterways, because we believe that life is better by water. Our research shows that spending time by water, whether it be your lunchbreak, daily commute or just a weekend stroll, really can make us feel happier and healthier. We are uniquely placed to improve the wellbeing of millions of people. www.canalrivertrust.org.uk
National Fishing Month is an Angling Trades Association initiative run in partnership with