GET FISHING NEWS
31 May 2022
THE ANGLING TRUST'S GET FISHING CAMPAIGN HELPS PEOPLE OF ALL AGES AND ABILITIES DISCOVER THE AMAZING AND SOMETIMES EVEN LIFE-CHANGING ENJOYMENT AND BENEFITS OF GOING FISHING. KEITH DACEY, AN ANGLING COACH FOR MAIDSTONE VICTORY ANGLING CLUB TOLD US ABOUT A RECENT GET FISHING EVENT ORGANISED FOR THE MEDWAY GHANAIAN ASSOCIATION WHICH – SUPPORTED BY THE ENVIRONMENT AGENCY WITH MONEY FROM THE ROD FISHING LICENCE THAT ANGLERS NEED TO BUY TO GO FISHING – ENABLED A NEW COMMUNITY TO GIVE FISHING A GO! WE LOVE THIS WRITE-UP FROM KEITH WHICH CAPTURES ALL THE FUN OF FIRST-TIME FISHING FOR BEGINNER ANGLERS.
Saturday 7th May, soon came round – the day where with help from the Angling Trusts 'Get Fishing Awards' initiative, funded via the Environment Agency, and support from Maidstone Angling Centre, Maidstone Victory Angling Club had arranged for a community event with the Medway Ghanaian Association at our Great Danes fishery.
Things were looking promising – the sun was shining down on Great Danes – a beautiful little old mill pond set in a small area of woodland. It's an idyllic spot and a great place to show people how to go fishing for the first time – "first impressions count", after all!
The first bit of fun for us club volunteers and coaches soon became apparent – we'd been expecting say, ten people… well, times that by three! This was going to be interesting!
The infectious enthusiasm of 30 newcomers, with hardly any idea about how to start fishing soon spread among us though – the club volunteers are all dedicated to getting more people fishing more often, so that moment of slight panic soon passed, especially when introductions were done and the Ghanaian Association's friends and family beginners made it clear they were up for a day of discovery. Lots of questions about what to do, what to use and where to go were being asked right from the start!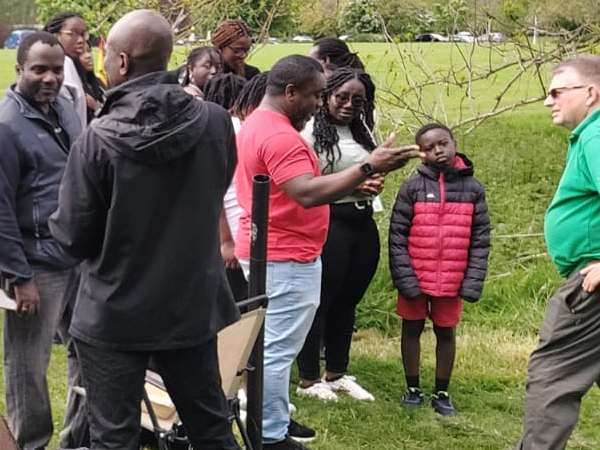 The day kicked off with a chat about fish care, the general principles of fishing, and the kind of baits to use. Small groups were formed and with each one supported by a club volunteer, fishing got underway.
Straightaway the lake didn't disappoint, and pretty soon everyone had caught a fish! We made sure the participants all got the chance to have a go with different types of fishing methods. These included simple whip fishing, more advanced rod fishing with a rod, reel and waggler float and moved on to simple ledger techniques and casting to catch fish feeding on the bottom of the lake.
This is the great thing about the Get Fishing Award scheme – complete newcomers like these thirty absolute beginners can go from never having picked up a fishing rod, through to being an intermediate and then more advanced angler after gaining experience from the Award's Bronze, Silver and then Gold levels. What's more – it's all done in a fun and friendly way so that the excitement of fishing is always at the forefront.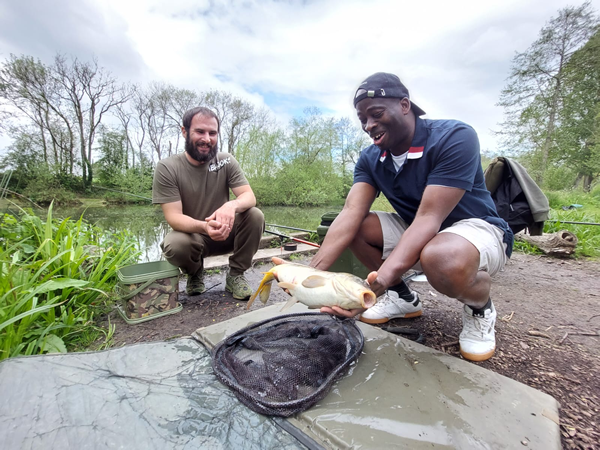 The group were fishing right through to 5:00 pm when an amazing barbecue rounded off a hugely successful day – the only thing left to do was the presentation of Get Fishing Award certificates with all participants achieving the Silver level of the scheme.
We thought that was the day done, but after food it was soon was back to fishing for a couple of hours, people were really enjoying themselves and wanted to put their new skills to the test!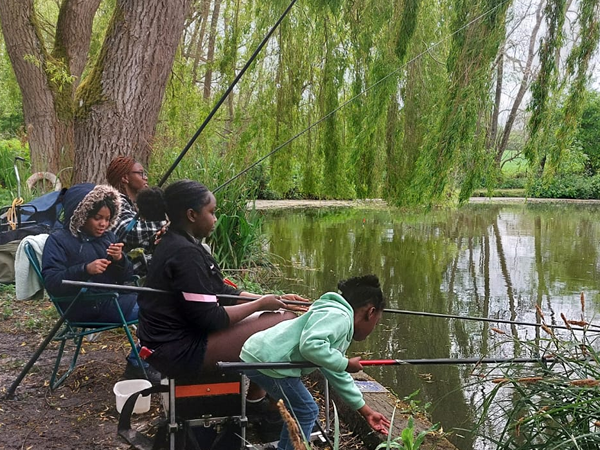 Finally, after much laughter, lots of fish caught and promises of a return event next summer, the participants departed.
Although exhausted by the non-stop fishing action, tuition and information passed on, the volunteers from Maidstone Victory Angling Club were completely overjoyed at the success of the event. We were amazed at the enthusiasm within the group to learn, and catch fish. Not only that though, the day was enhanced by the surrounding wildlife, with goslings on the water, a kingfisher and even the lake's fly life provoking interesting questions and comments.
The "all-round experience" of going fishing was experienced by the beginners and I'm sure they "got" what fishing is all about – that hard to describe angling experience – a combination of being in touch with nature and the quiet enjoyment of your surroundings but combined with moments of excitement, success and even pride when a fish is caught.
As you can see from the smiles in these pictures, even the "serious" bits of the day about fish care and the kind of fishing licence you need were met with smiles and positivity.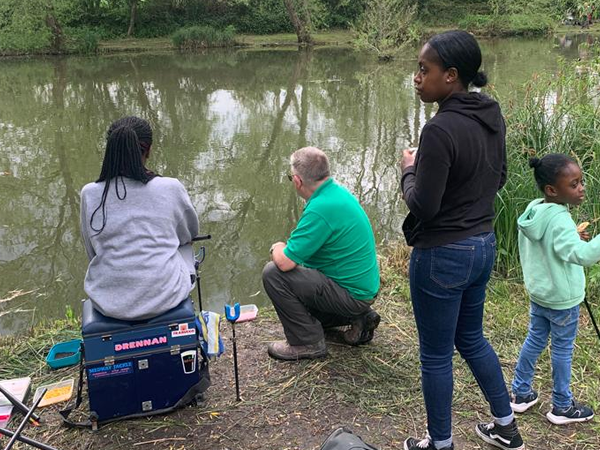 We feel like Maidstone Victory Angling Club made some new friends that day, and we hope it was the start of a successful angling journey for the Medway Ghanaian Association and one that brings them back to come fishing with us again as often as they like. They are very welcome!
Keith
Keith Dacey, Level 2 Angling Coach
Maidstone Victory Angling Club
Medway Ghanaian Association were able to equip its members with fishing tackle and other resources for this event after it received over £1,000 of support from the Environment Agency having successfully applying for a grant from the Get Fishing Fund. The fund has so far seen a whopping £300,000+ of fishing licence income invested in angling clubs, coaches, fisheries and non-angling organisations to creating more opportunities for people to get into fishing and has enabled thousands of newcomers to experience all of the health and wellbeing benefits, and excitement of going fishing!
Dr. Kwashie Amartei Anang, the Chairman of Medway Ghanaian Association told us:
"The Environment Agency Get Fishing Funding for our angling project helped members of our community get into fishing and will keep them within the sport. Most members of our community have no idea or knowledge about angling. Starting this project and encouraging members to take part is going to help improve their mental and physical health. During Covid most of our members did not have the opportunity to take part in physical activities and this affected their wellbeing. Involvement in a new sporting activity such as angling has allowed our members to be engaged in physical and mental activity while all the time learning something new."
We also got some brilliant feedback about the event from Dr. Kwashie who added:
"On behalf of the Medway Ghanaian Association I will like to say a big thank you to you and your volunteers for hosting us yesterday and teaching us how to do angling. Thank you. We did have a nice time and we look forward to more of such collaboration between us.

We are also grateful for the awarding of certificates to our members. It was a great experience for them, because none of us have had the opportunity to go angling, hence, members did not know anything about angling. We did learn a lot, from the equipment used for angling, two methods used in angling to catch the fish, different fish meals, how to put the worm on the hook and the names of the fishes caught.

Members also learn about the need to preserve the environment by having to put their catch back into the water. Every member of the group did enjoy the fishing and would like to do it again, what most of the members of the group enjoyed especially the children was when the catch a fish, which made it turn into a competitive event with each child wanting to get the highest catch!

They also enjoyed the catching of big fishes by some members of the Maidstone Victory Angling Society, which they had the opportunity to hold in their hands. The event was successful as it was not only about the fishing but having the opportunity to meet and make new friends, which ensure community cohesion. It was successful as we did enjoy the natural environment, which was good for our members mental health."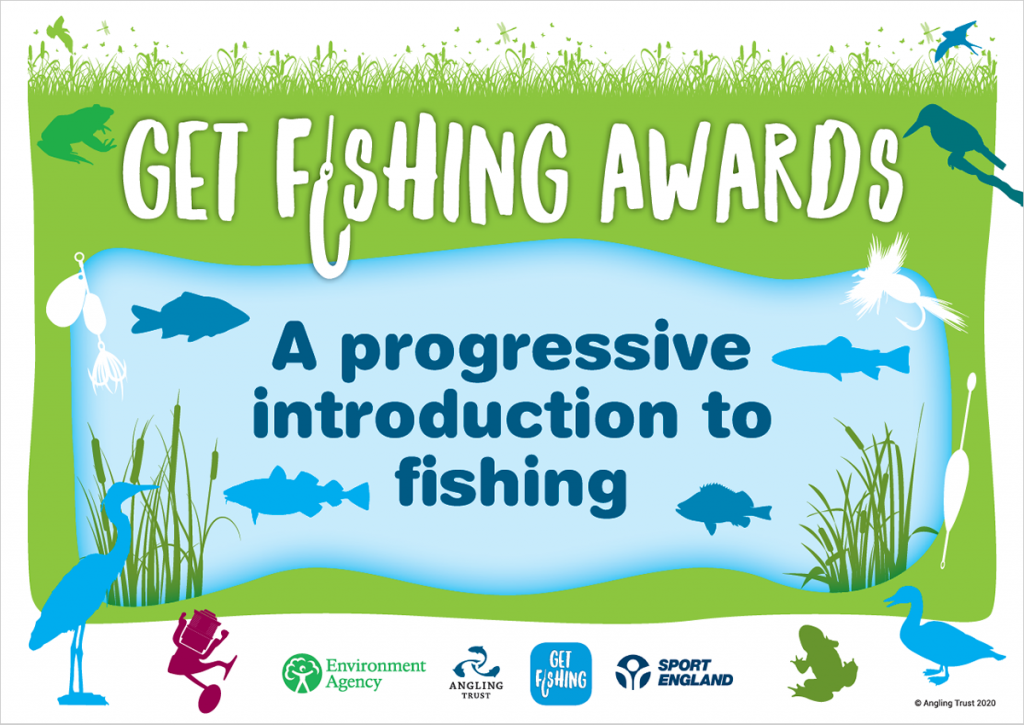 What's next? The Angling Trust's Participation Team is looking forward to helping Keith and Maidstone Victory Angling Society arrange a Get Fishing Gold Award Day for Medway Ghanaian Association
How to get involved and learn how to fish! There are hundreds more participation events like this for families and children of all abilities all over England. You can find them at www.anglingtrust.net/getfishing
If you can't find what you're looking for on our map of events, coaches and fishing venues suitable for beginners, please get in touch. Contact our team of friendly and helpful Regional Angling Development Officers who will help you get into fishing! Find them at www.anglingtrust.net/getfishing/contact-us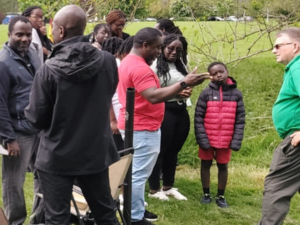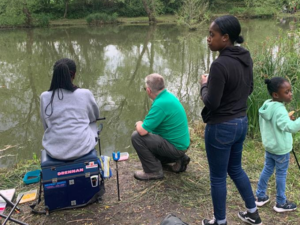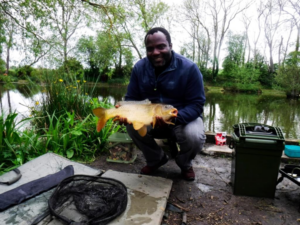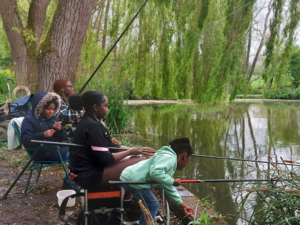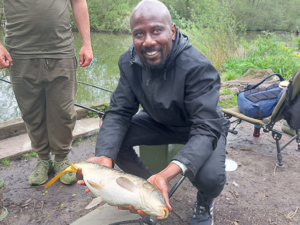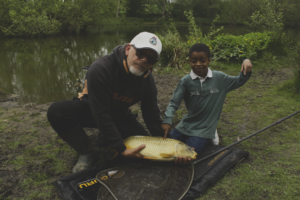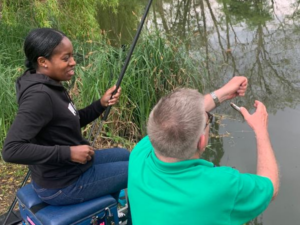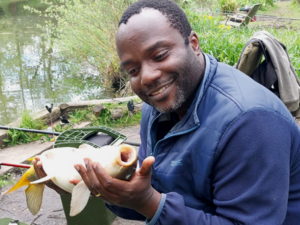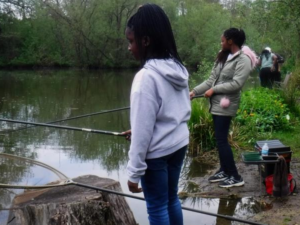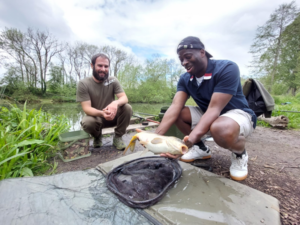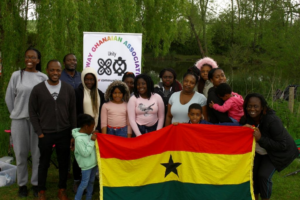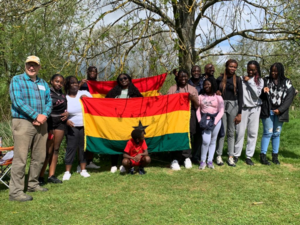 CONTACTS FOR THIS GET FISHING NEWS ARTICLE:
Medway Ghanaian Association (MGA) – Bringing Ghanaians in Medway together to support each other
Dr. Kwashie Amartei Anang, Chairman
ghanamma@yahoo.co.uk
www.medwayghanaianassociation.btck.co.uk
Angling Trust
Graham Mabey, Regional Development Officer (South)
07946 263131
graham.mabey@anglingtrust.net
Maidstone Victory Angling Club (MVAS)
Keith Dacey, Level 2 Angling Coach
www.maidstonevictoryanglingsociety.com
www.facebook.com/maidstonevictory
Maidstone Victory Angling Club's Great Danes Fishery
www.maidstonevictoryanglingsociety.com/water/great-danes
Maidstone Angling Centre – Kent's longest established fishing tackle dealer
15 Perryfield Street, Maidstone, Kent, ME14 2SY
www.maidstoneangling.com
www.facebook.com/maidstone.centre